Special CNSJ
Festival 2013
coin minted
by CBCS
This week the Central Bank of Curaçao and St Maarten granted Fundashon Bon Intenshon president Gregory Elias permission to promote the sale of a special five guilder coin as part of the Curaçao North Sea Jazz Festival that will reach its climax coming weekend.
The front side of the coin shows a color picture of a saxophonist with the Curaçao North Sea Jazz Festival logo. The text reads: "CURACAO NORTH SEA JAZZ FESTIVAL 2013" and "5 GUILDERS."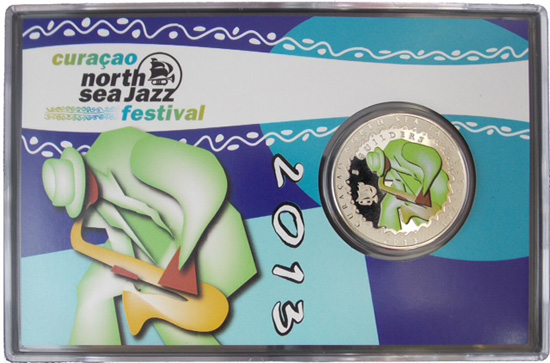 The price of the coin especially minted for this huge event is set at USD 30. The coin can be purchased at the Central Bank (here on Curaçao in Scharloo) and possibly at a later stage also at the commercial banks and other still to be determined places.